Party Planning. It's so much fun. No, really it is. Only because its a perfect excuse to buy things that you'll only need for a few hours on one day of your life. Amazing!
My husband and I totally live by the notion that whatever we eat our children can eat too-- of course once they are of age to eat table food. It works out though, because we've totally changed our diets to include less fried foods, fats and everything else that could potentionally cause us to appear in a documentary on TLC's Network.
Kids Birthday Party food has come such a long way from the days of the hot dog in a bun. Here are a few of my favorite Kid-friendly bite-size appetizers that adults will love too!
Pepperoni Pizza Puffs
lickthebowlgood.blogspot.com

3/4 cup flour
3/4 teaspoon baking powder
1 tablespoon Italian seasoning
pinch of salt

(my addition, optional)

pinch of red pepper flakes

(my addition, optional)

3/4 cup whole milk
1 egg, lightly beaten
1 cup shredded mozzarella cheese
1/4 cup grated Parmesan cheese
1 cup cubed pepperoni
1/2 cup store-bought pizza sauce
1. Preheat the oven to 375 degrees. Grease a 24-cup mini-muffin pan. In a large bowl, whisk together the flour, baking powder, Italian seasoning, salt and red pepper flakes (if using) ; whisk in the milk and egg. Stir in the mozzarella, Parmesan and pepperoni; let stand for 10 minutes.
2. Stir the batter and divide among the mini-muffin cups. Bake until puffed and golden, 20 to 25 minutes.
3. Meanwhile, microwave the pizza sauce until warmed through. Serve the puffs with the pizza sauce for dipping.
Lemon-Thyme Bruschetta
thekitchn.com

Link to recipe: http://www.thekitchn.com/last-minute-thanksgiving-appet-132838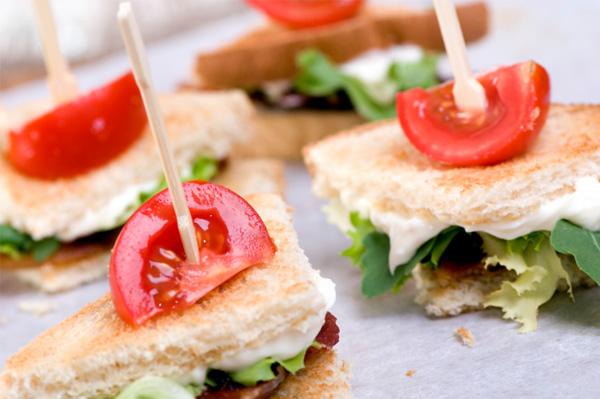 Buffalo-Style Celery Sticks
marthastewart.com

Ingredients
4 ounces blue cheese

2 ounces cream cheese

6 large celery stalks

Cayenne pepper
Directions
In a small bowl, mix 2 ounces each of blue cheese and cream cheese until smooth. With a small spoon or knife, stuff 6 large celery stalks, rinsed and dried, with cheese mixture.

Crumble another 2 ounces blue cheese on top, and sprinkle lightly with cayenne pepper. Cut stalks in half, if desired.